We have all watched the epic show F.R.I.E.N.D.S and envied their friendship at most times, right? They have provided us with major friendship goals, especially Monica, Rachel and Phoebe! They made us go #friendshipgoals😍 even before hashtags existed, right?
While Phoebe is positively crazy😂, Rachel is elegantly fashionable💕. Additionally, while Monica gives off MOM vibes, we all fell in love with them! So I am gonna list out a few reasons why they are major goals!
They have been in each other's most important times😘
From Rachel's first real job to Monica's wedding to Rachel's baby to Phoebe's having triplets or her wedding in the end, these three were there for all of the important moments (and even the unimportant ones). Could there be a greater friendship than one where your BFF is there for every single important moment, every day of joy, and every time of struggle? I don't think so.
They have the most epic fights🙈
Fights determine how healthy a relationship is! Yes, but that doesn't mean you fight all the time. These girls have had fights like when Monica went out with Rachel's high-school boyfriend Chip or when Rachel was moving out and Monica was mad that Rachel was not emotional! Well, these are the cat-fights we grab pop-corn for, right?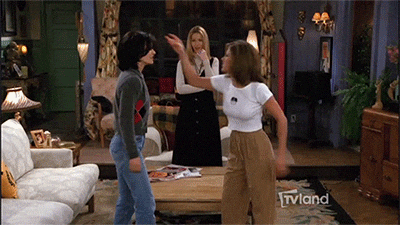 Boys are never more important than their friendship😜
How many ever people they go out with, towards the end of the day they realize that no dumb guy is more important than their besties!
Because, well, we are girls, and sometimes we just need to laze around in wedding dresses and drink beer.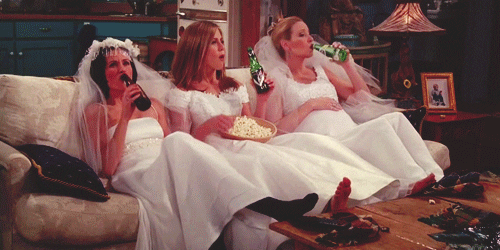 They don't let you do crazy stuff……………..alone😂
Doesn't matter what crap one of them wants to do, the other will always support her!
They support each other in their love life💘
Whether it was between Ross and Rachel or Monica and Chandler or Phoebe and Mike, they always supported each other in their love life!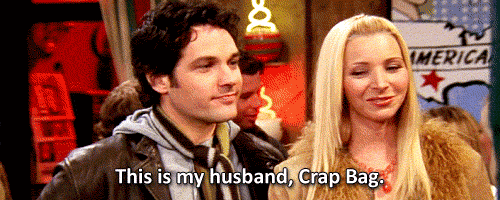 They could never lie to each other behind their backs😰
True friends have a hard time lying to each other. When friends do lie to each other, they are also really bad at pulling the fib off. Rachel and Monica had a hard time lying to each other, especially about important stuff; Monica felt terrible when she had to keep her relationship with Chandler a secret from Rachel!
They are basically sisters💖
They always know what each other wants no matter what! They have no problem in doing illegal things for the other also. Remember Rachel injures her ankle and has no insurance, Monica lets her pretend to be her to use hers. Even though they ultimately go back and change it.
They irritated each other so much, but loved each other unconditionally💙
Well, that's what friends are for!
The Most Important Lesson Monica, Rachel, And Phoebe Taught Us Is That No Matter Where Life Takes You, Your Best Friends Will Always Be Right There By You Or A Call Away…so if you people also have friends like them don't let them go!💞